What is The Best Trade Show Marketing Tool… Chair Massage!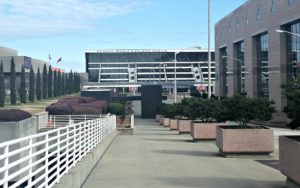 The Georgia World Congress Center (GWCC) is located in downtown Atlanta.  It consists of three buildings featuring more than 1 million square feet of exhibit space.  
GWCC is a huge venue!   So how can you get yourself noticed?
You need a great trade show marketing strategy!
Turn 2 Massage provides on-site chair massage at trade shows and conventions at the Georgia World Congress Center in Atlanta, Georgia. We have helped numerous companies make a huge impression at their trade show by offering "free" chair massage to attendees. It's a sure way to get attention from people that most likely would have passed you by.    Our trade show massage is a sure way to stand out amongst your competitors!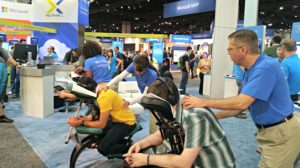 Why is Chair Massage at your Trade Show such a Great Idea?
Attendees walk around the large exhibit halls for hours.   It's loud, chaotic, and exhausting!  When they see chair massage they can't wait for their chance to sit down and relax for a few minutes.   It makes such a difference!  They can calm their mind and rejuvenate their body with just a few minutes in our massage chairs.  They will be so appreciative and much more willing to listen to what you have to offer. 
Try chair massage at your trade show booth.   Check out our testimonials to see comments from clients who have used these services.  They can tell you the small investment was more than worth it.
Other trade show massage services include

foot massage

and

hand massage

 
When attendees spend all day walking, their feet are achey and sore.   A 5 or 10 minute foot massage is another great marketing tool.    
Or, if you have a hand or foot product you want to promote, using that product in a hand or foot massage provides the massage experience and showcases your product.