Massage for Corporate Health Fairs & Wellness Day Events
Corporate wellness is key in maintaining a healthy work environment for all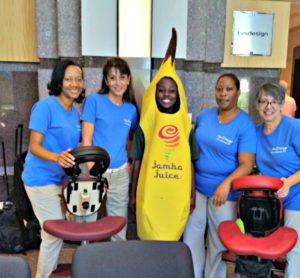 Turn 2 Massage provides onsite chair massage at health fairs and wellness events. Offering chair massage at corporate health fairs is a great way to encourage employees to attend.
Our massage therapists will provide relaxing chair massages that can help reduce stress and boost morale.  They will answer your employees questions on ways to manage stress and provide healthy tips that can be incorporated into their daily lifestyle.
Massage at your Company Health Fair 
Countless sick days are used by employees every year due to stress and stress related health conditions.  Stress management is an important area to address and massage can be a great alternative.  

By including employee health screenings and medical testing such as cholesterol and blood pressure checks, and diabetes and glucose testing,  employees will be made aware of any potential health risks and receive information on lifestyle changes that may help prevent future health problems.

Companies that offer health fairs at work provide their employees with important information on ways to lead a healthier life.   
Massage encourages a healthy lifestyle: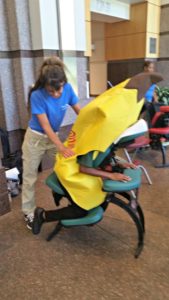 With the known health benefits of massage, chair massage at your corporate health fair or at your wellness event is a great way to help relieve stress & tension, clear the mind, and re-energize the body. 
Turn 2 Massage service providers are skilled professionals experienced in therapeutic chair massage therapy and can offer helpful tips to maintaining a healthy mind and body. 
Include chair massage at your company's next health fair or at your wellness event.  When you see the immediate results, you might just consider making this service a regular benefit of your company's corporate wellness program.   Employees morale improves and so does the relationships between co-workers.   A win-win for everyone. 
Click here for pricing information.
Make Turn 2 Massage your choice for mobile massage therapy, chair massage, events, and mobile spa party services in Atlanta.