Mobile Massage for Events, Offices, Homes, Hotels, Film Sets & more….
Turn 2 Massage is Atlanta's #1 mobile massage service provider.  We arrive at your location with everything needed to provide the best massage experience possible.
Our mobile massage therapists come to your home, office, hotel or event location.  Our team of traveling therapists love helping people and are skilled professionals in the field of massage therapy.
We specialize in chair massage for office wellness, corporate massage for events, onsite massage for celebrations and special events, and in home massage services.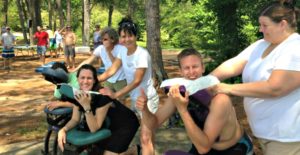 Companies are always searching for ways to create a more cohesive work environment.  Something that can help retain employees and keep the work environment peaceful.  Chair massage at your office will make a significant impact on all these things…and more!
Our onsite corporate massage for events always creates excitment.  At trade shows and conventions, conferences, company picnics and holiday parties.   Whatever work related function or event you have planned, chair massage is sure to fit right in.
Our onsite massage services are great for sporting events, tournaments, bachelorette parties and other celebrations and event occasions.  We offer both table and chair massage services.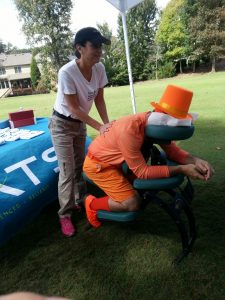 Experience our massage at home service. Professional massage brought to your doorstep.Think how nice it would be to receive your massage then relax on your own sofa.
Don't let the relaxation and stress relief you receive during a massage be lost fighting traffic on your way home.
If your hotel doesn't offer spa services, no problem! We provide convenient in room massage at your hotel. Our professional massage therapists bring everything needed.
If you're celebrating a special occasion with your loved one, planning an in room couples massage makes the occasion even more special.
Let Turn 2 Massage and our amazing team of mobile massage therapists make the drive to you.  We provide the best mobile massage in Atlanta, Georgia!  Your satisfaction is our absolute priority!
Request a quote today. 
OTHER SERVICES INCLUDE:
Mobile Spa Parties
Corporate Massage
Event Massage