Mobile pedicures for spa parties and group events
Turn 2 Massage offers express pedicures and polish change services at events and spa parties.  Whether it's a corporate event, bridal shower, bachelorette party or ladies spa day, our mobile nail spa services are outstanding!
Our pedicures consist of filing, shaping, buffing and polish.  Your guests can sit back, relax, and enjoy a treat for their feet!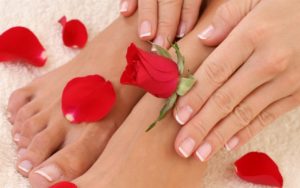 We also offer the option of just polish changes.  This choice is great for events that are limited on time or have a large number of people to accommodate. It's a treat that makes people feel good, look good, and still get some pampering.    This is also a great alternative if you want to add nail services to your party but need a less affordable option. 
Our mobile nail spa services give you a reason to get together with girlfriends for a spa party, or gather a group of co-workers and create a spa party at the office.   It's also a great addition at corporate events and family celebrations. It's fun for all! 
If you're considering mobile pedicure services,  contact us for a customized quote.
We offer mobile nail spa services throughout Atlanta!