Sports Massage can address specific areas of the body most used during competition, playing sports, or working out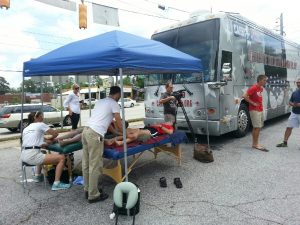 Sports Massage is a type of therapeutic massage designed for

highly active people who engage in athletics.  Playing sports is

hard on the body and can often lead to injuries in both short and

long term.

    
Sports Massage enhances performance and prolongs 

a sports career by helping to prevent injury, reduce pain and 

swelling in the body, and increase flexibility. 
Sports Massage techniques can be used on specific areas of the body that are most used.  Runners of course need heavy concentration on the legs while golfers benefit more by focusing on the upper body. 
Sports massage is

also highly effective in speeding up recovery from an injury 

encouraging awareness and promoting the body's 

natural  immune functions.
Additional benefits of Sports Massage:  It's Great for Events

                                                      
It is a great technique used to help runners prepare for an event such as a marathon or for professionals preparing for a game or competition.   Pre-event sports massage can be done more vigorous in nature and will help the athlete warm up and remain alert for their upcoming performance.  It can also be specific to the athletes sport and focus on areas most used during competition.

Sports massage can also be helpful post event.  It is performed less vigorously to help slow the body down and can assist in preventing the build up of lactic acid which is the cause of muscle soreness.
Athletes are aware of the importance of drinking water and will need to increase their intake after receiving sports massage.
Stretching can be incorporated and is extremely helpful both pre and post event.
Turn 2 Massage offers onsite massage for all sporting events.
Pricing information for Mobile Massages in Atlanta, click here
Swedish Massage
Deep Tissue Massage
Couples Massage
Prenatal Massage
Hot Stone Massage
Trigger Point Massage

Make Turn 2 Massage  your choice for mobile massage therapy, chair massage, event massage and mobile spa party services in Atlanta.