Turn 2 Massage is Atlanta's #1 mobile massage corporate wellness service.
Massage in the Workplace
There are many reasons to consider offering chair massage in your office. Overworked employees tend to produce less efficiently due to lack of focus and exhaustion which can lead to burnout. Offering chair massage at work shows employees they are appreciated and cared for.
Our trained professionals can provide chair massages that will leave your employees feeling completely refreshed. Statistics show that companies who offer chair massage to their staff on a regular basis have higher employee retention rates.
Depending on your budget you can choose anywhere from 10 to 30 minute sessions.
Let Turn 2 Massage provide your staff with the best chair massage in Atlanta. Your workplace wellness massage professionals.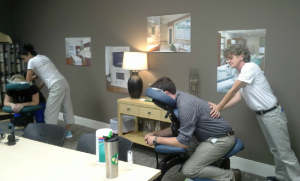 Rates & Services
Client Testimonials
Other reasons to use our services:
Event Chair Massage
Massage on set for Film & TV
Trade Show and Convention Massage
Make Turn 2 Massage your choice for corporate chair massage, events, on set massage for movie productions, and mobile spa party services in Atlanta.