Include Massage in your Worksite Wellness Program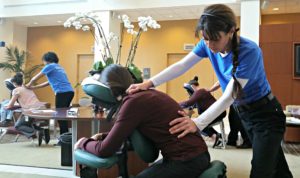 Turn 2 Massage offers chair massage for workplace wellness programs. Weekly, bi-weekly or monthly chair massages can create enthusiasm and boost morale.  It creates good team spirit and employees produce better results for their employers.
Offering chair massage as part of your corporate or worksite wellness program can be a very worthwhile investment. Employees are more satisfied at work because they feel cared for and appreciated.  Companies that have wellness programs in place have seen a significant decrease in money lost from employee sick leave and overall healthcare costs.   Chair massage will help keep stress levels down and employee morale up. 
Health Fairs are a great benefit to your Corporate Wellness Program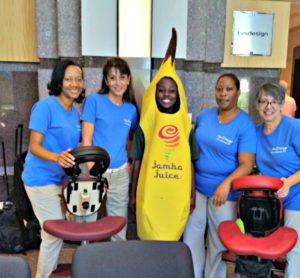 Chair massage at your corporate health fair will help draw more interest from your employees.   As important as health screenings are,  your employees may not find a health fair all that exciting.  But add chair massage and they will!  After employees are screened for various health risks and given flu shots, they'll look forward to a feel good service like chair massage!
To include regular chair massage as part of your corporate wellness program or at your next company health fair, contact us today!