Massage at your sporting event is a welcome treat for participants 
Turn 2 Massage provides on-site sports event massage services in Atlanta, GA.  Sports massage can help warm up the athletes/participants prior to the event and relieve aches and pains post event.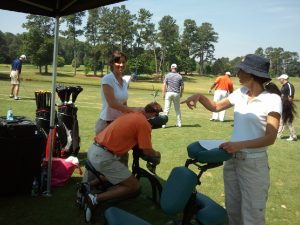 Table massage is ideal for half marathons and other run/walk type events. Prior to the event the massages are performed more vigorous and fast paced to energize and warm the muscles. At the finish, it will relax and help slow down the body as well as help prevent soreness.
You may prefer chair massage at your sporting event.   If the event doesn't require using the legs as much this may be a good choice for your needs.   It's very popular at golf tournaments because it address the upper body which is most used when golfing. 
Turn 2 Massage offers onsite massage for all sporting events. Contact us via email or give us a call at 404-917-9001 to discuss your event details and receive a free quote.
Sports Event Massage is great for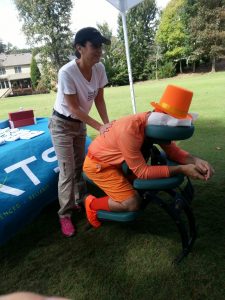 5K's
Marathons
Golf Tournaments
Fundraisers and more!
Contact us today to schedule massage for your next sporting event. We provide customized quotes to meet your specific needs.
See our rates & services here.