Turn 2 Massage provides on-site massage at sports events in Atlanta.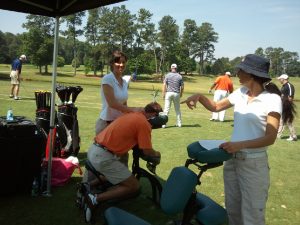 Massage at sporting events is a welcome treat.  
Sports massage will help warm up athletes or participants prior to a competition or event and help relieve aches and pains post event.
Table massage is ideal at half marathons and other run/walk events
Pre-event sports massages are performed more vigorous and fast paced to help energize and warm the muscles.  It can also help reduce the chance of a muscle strain or spasm. 
Post-event massage is performed more slowly to relax and help slow down the body as well as help prevent soreness in the days following the event.
Chair massage is also available for your sporting event   
If the event doesn't require a lot of running or walking,  chair massage may be a good option.   It's very popular at golf tournaments because therapists address the upper body which is most used in that sport.   
Sports Event Massage is great for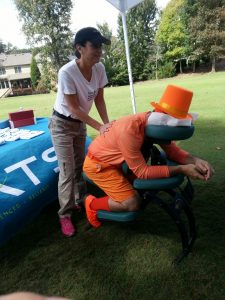 5K's
Marathons
Golf Tournaments
Fundraisers and more!
Turn 2 Massage offers onsite massage for any sporting event or competition.
Contact us today to schedule massage for your event. We provide free customized quotes to meet your specific needs.