Corporate Wellness Massage Program & Wellness Services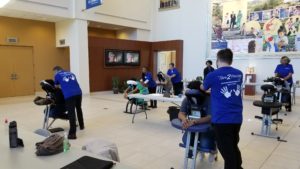 Massage therapy in the workplace has become one of the most beneficial additions to corporate wellness programs.   Regular chair massage has shown to have an extremely positive impact on employee morale.  Consider adding regular chair massage as a wellness incentive for your employees.
High stress work environments cause mental stress & fatigue
When employees are stressed or feel overworked, it can lead to a decrease in performance and productivity.  It can also cause conflict between co-workers and create a negative work environment.   Work related stress is the leading cause of employee sick days so having a good wellness program in place can make all the difference. 
Focusing on Employee Wellness is key to having a happy, healthy, and productive work environment
Special perks like chair massage will help keep employee stress levels in balance.  Massage helps lower stress, increase energy and in turn can improve employee productivity.    Regular massage will improve employees attitudes, as well as increase positivity and camaraderie between co-workers.  
Turn 2 Massage provides wellness services for corporations looking to improve employees health and happiness in the workplace.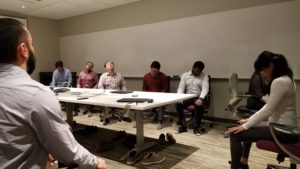 Our Wellness Services include: