Corporate Massage at Offices and Events in Atlanta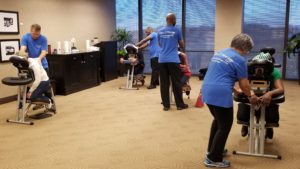 Turn 2 Massage and our team of professional mobile massage therapists bring the best seated chair massage to your workplace.   
Chair massage at work gives your employees time to relax, clear their mind, and recharge. Our massage therapists provide an experience your employees will remember and talk about for weeks! 
Corporate Chair Massage for Employee Wellness 
Do you want to show your employees how much you appreciate them?  Chair massage for employee appreciation day is the perfect way to say thank you for your hard work.  

Are your employees working long hours or stressed about meeting project deadlines?   Our relaxing chair massages will help your employees re-focus and re-energize.  

Why not add regular chair massage to your corporate wellness program.  Employees will be less stressed, more productive, and your office environment will be more positive and upbeat!
Chair Massage for Corporate Events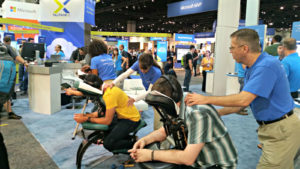 Our chair massage services can add enjoyment to any corporate event.   We provide chair massage at health fairs, company parties, picnics, trade shows, conferences and much more. 
Chair massage at work or at your corporate event   
Try it for employee appreciation day or schedule on a more regular basis.
We have weekly, bi-weekly, or monthly options.  
Office chair massage sessions can range between 10 and 30 minutes per person.
Add chair massage at your corporate event.  It's sure to be a big attraction!
If you would like to try chair massage at your office, add it to your corporate wellness program or include at your corporate event, contact us for your free customized quote.  
Read more about benefits of Corporate Massage: 
Chair Massage for Corporate Wellness & Benefits of Corporate Chair Massage in the office
Read more about our massage for corporate events