Valentine's Day massage at your home, hotel or event location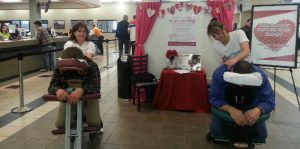 Turn 2 Massage provides Valentines Day massage services at homes, hotels, and event celebrations in Atlanta.   Massage is a healthy way to celebrate your Valentines Day and spend quality time with the people you care about most.  Along with the added touch that Valentine's Day massage provides, there are many health benefits.    Studies have proven massage is one of the best treatments available to reduce stress.  
Whether you're planning a Valentine's Day event or planning a special day for yourself and your loved one, we offer both chair massage and full body table massage.
Make this year even more special with our mobile massage therapy services for Valentines Day.
Turn 2 Massage provides a Valentine's Day massage experience to remember.  
Call us at 404-917-9001 to inquire or contact us via email to request a quote.