Chair Massage at your trade show can help you get the attention your looking for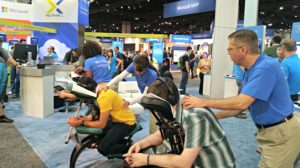 Exhibiting at an industry trade show requires months of well thought out planning.  Having a great strategy is imperative to achieve success and get a good return on your investment. Your booth needs be in a good location that gets a lot of foot traffic. If you haven't secured your booth space far in advance, choices will be limited.   You'll need to come up with a plan that gets you noticed in spite of location.
Our onsite chair massage is extremely popular at trade shows. We have helped our clients get the attention they need in order to present their products and services to attendees.     Chair massage creates excitement and provides attendees a chance to re-energize and find relief from the chaos of the trade show environment.  It's loud, the exhibit halls are enormous, and people want a break. That's when word spreads about free massage and people will gather at your booth.
If your looking for a great trade show marketing strategy that will help you become the most popular booth around, let Turn 2 Massage and our trade show massage services help you do it.