Atlanta Mobile Chair Massage Services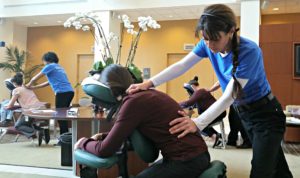 The demand for chair massage  has greatly increased over the last several years.  Not only because it's convenient and can easily fit into your schedule, but the therapeutic effects are just as beneficial as a table massage.  Chair massage allows the massage therapist to address the most common areas of stress and tension.  The neck, back and shoulders.   
Chair massage can be found in a number of places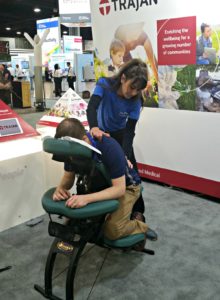 Airports – Having the ability to receive a chair massage when traveling can make all the difference.
Workplace – Employers have seen significant improvements in employee stress levels and work performance. 
Trade shows and conventions –  You'll often see chair massage at these events. It can be great for marketing because it draws tired attendees to your booth. 
Malls –  Shopping can be tiring and chair massage is a great pick me up. 
Sporting Events –  An ideal place for massage.   It can help athletes prepare for competition and wind down after the event. 
Mobile chair massage for the workplace
Turn 2 Massage focuses on workplace wellness.  Keeping the environment as stress free as possible has so many positive rewards. 
Co-workers get along better
Less sick time is used
Employees have more energy and are more productive
It's affordable for the employer & the results more than make up for the cost
Mobile chair massage for events 
We provide chair massage for all types of events including corporate functions and private events.  
We also work with the Atlanta film and television industry providing chair massage on set 
Days are extremely long and very demanding when working on a movie production or television show.  Chair massage is brought on set to help prevent injury and exhaustion.  
Just 10 minutes of chair massage is enough to increase energy and endorphins.  That in turn makes everyone happy!
Chair massage is so versatile it can be done in any setting.  
If your interested in booking our mobile chair massage services, contact us today for a  free quote