Chair Massage brought to you anywhere…anytime!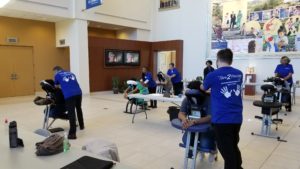 You see chair massage at malls, airports, events, on movie sets, and in the workplace.    Chair massage is an affordable and convenient form of massage therapy.  It can be brought to any location.  The massage chairs take up very little space and can be set up anywhere in a matter of minutes.    It works well in a break room, conference room, open space,  or event venue. 
Chair massage is very effective at relieving stress and tension and provides a quick boost of energy in a short period of time.  Chair massage is utilized for office wellness and at events.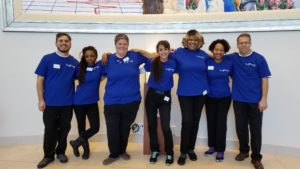 Turn 2 Massage offers chair massage for employee appreciation day, corporate wellness programs, and at special events. Some of our events include trade shows and outdoor sporting events.  Sessions can be as little as 10 minutes or as much as 30 minutes per person.  
Chair massage therapy focuses on the neck, back and shoulders.  The client remains fully clothed and is seated in a comfortable massage chair.   Therapists are able to address the most common areas of stress & tension and quickly provide relief. 
That's why chair massage is so popular at the office, for groups, and at events.  
Find out more about our corporate massage or event massage services.